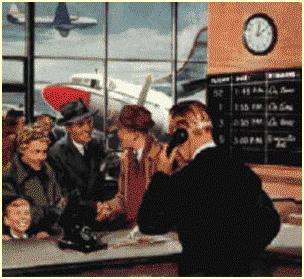 DC-3 Airways provides frequent first-class service to forty-nine destinations throughout New England . . . fast . . . comfortably . . . and in modern DC-3 aircraft. Our on-time performance is unequaled. For the third consecutive year the National Airline Association has awarded DC-3 Airways the coveted Sterling Trophy for best on-time performance.
Why put up with road stress, traffic lights, speed traps or accident delays? Relax and enjoy world-class wines and cheeses served right at your personal table while DC-3 Airways flies you to your destination.
Best of all, DC-3 Airways offers first class service for the cost of a coach ticket.
No other airline serves New England as well or as reliably as DC-3 Airways. Our entire fleet is equipped with the new Automatic Direction Finder to safely transport you to any destination, even in weather that grounds other airlines.
Whether your travel needs take you from Burlington, Vt. to Cape Cod or Bridgeport, Ct. to Presque Isle, Maine, DC-3 Airways provides the finest service available at the most economical price.
If your travel plans carry you beyond New England, DC-3 Airways also offers convenient service to the Newark Air Terminal for domestic and transcontinental flight connections.
Book your DC-3 Airways flight today by calling PLeasant 4-2000 . . . it takes only moments. Your ticket and First Class service await you at the airport.